Drink bottle 'DNA link' to alleged burglar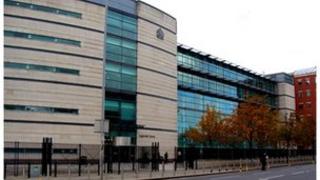 A bottle of drink is a link in the case against an alleged burglar, Belfast Magistrates Court has heard.
Gary McKee, 20, of Manor Street, Belfast, denies aggravated burglary at an apartment in Library Square in the city centre on 17 February.
A police officer said he was one of three men involved in the burglary in which a knife was held to a householder's throat.
Mr McKee's DNA was allegedly found on a bottle of alcohol left at the scene.
The officer said the gang stole DVDs and aftershave. He said Mr McKee had been identified from both CCTV and the forensic evidence.
He was remanded in custody until 20 August.