Quinn supporters stage protest against prison sentences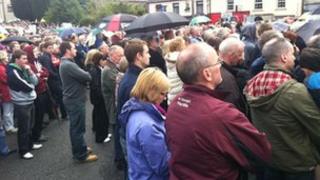 Fermanagh business man Sean Quinn has made an emotional speech at a rally in support of him in County Cavan.
On 20 July, a judge found that Mr Quinn, his son, Sean Quinn jnr and a nephew, Peter Darragh Quinn, hid millions in assets from the bank.
Mr Quinn jnr and Peter Darragh Quinn were given three-month jail terms by a judge in Dublin.
Hundreds of supporters attended the rally in Ballyconnell on Sunday night.
Speakers included well-known names within the GAA including Mickey Harte and Joe Kernan, as well as Fermanagh priest Father Brian D'Arcy.
Mr Quinn thanked the crowd and his family for their support.
"There's a story told that's not a true story, but hopefully the more intelligent people from the country, you people, understand what the position was, and is, that we always paid our way," he said.
The protestors wanted to show solidarity after Sean Quinn jnr, was sent to Mountjoy jail in Dublin.
They urged the former Anglo Irish Bank to seek the suspension of contempt orders issued against the Quinn family.
Sean Quinn senior avoided jail but was given three months to cooperate with the Irish Bank Resolution Corporation (IRBC) formerly the Anglo Irish Bank.
Peter Darragh Quinn was also sentenced to jail for contempt, but he failed to appear for sentencing and a warrant for his arrest was issued by the High Court in Dublin. He has since been photographed at a GAA match in Kinawley, Northern Ireland.
Both Sean Quinn jnr and Peter Darragh Quinn were sentenced to 90 days in Mountjoy prison for their contempt of previous High Court orders demanding that the family stop any actions which could move its overseas assets beyond the reach of IBRC, to whom the bankrupt Quinn group owe £2bn.
Resolution
Sunday's rally was held in a Quinn packaging plant in Ballyconnell.
The family's supporters have called on IBRC to engage with the Quinns, through their lawyers, "to resolve the present impasse".
They also want IBRC to suspend all further pending proceedings against the family until the legitimacy of the debt is clarified.
Last week, in an interview with the BBC, Sean Quinn snr who is from County Fermanagh, said: "I created a lot of employment and wealth in this region.
"To take that away from me unlawfully, I feel I would be sidestepping my responsibility by not defending myself.
"I feel an obligation to defend my principles, my family and my region from the injustice that had been done."
Asked if he felt there was a desire to see him behind bars, Mr Quinn replied: "I do."
The Irish state bailed out the Anglo Irish Bank when it failed and the IBRC's function is now to recover money for the Irish taxpayer.
The bank is seeking to recover money from the Quinns for property owned by them in Russia and Ukraine.
However, the bank found itself locked out of the company that controlled the Quinn property portfolio and found that the money and ownership was disappearing into a network of companies across the world.
Referring to the family's portfolio of international property, Mr Quinn said: "The easiest thing would have been to jump in a jet and head anywhere we wanted where we had assets and there would be no dispute.
"We had no dispute in Russia or Ukraine. We didn't do that. We wanted to honour our commitments and vindicate our position."