Northern Ireland celebrates National Marine Week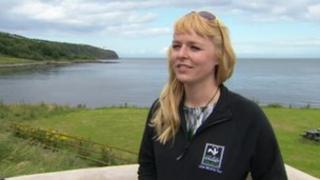 National Marine Week will be celebrated across Northern Ireland with opportunities to rummage in rock pools and squelch in seaweed.
The Ulster Wildlife Trust has organised a series of free events to celebrate the seas around Northern Ireland.
People are invited to enjoy a shore ramble in Carlingford Lough, seaweed squelching and hand-baths at Titanic Belfast, a rock pool rummage in Portrush and Annalong, or a coastal walk along Belfast Lough.
Budding marine biologists will also have the chance to take part in a scientific survey of rocky shore plants and animals that are indicators of climate change.
The results will be fed into a national online database, as part of the UK-wide Shore Thing Project.
Events run until Sunday 12 August.
"Our seas are home to a fantastic array of weird and wonderful creatures, many of which can be discovered in the tiniest puddles of water, such as the slippery butter fish and hiding hermit crabs, to the jelly-like, blood-red sea anemone," said Kerri Whiteside, living seas community engagement officer with the Ulster Wildlife Trust.
"National Marine Week is the perfect opportunity for people to get out and explore the seaside and experience for themselves the diversity of wildlife that our seas and shores have to offer.
"As well as being lots of fun, we hope our events will help everyone to understand the importance of protecting our vital marine habitats for the future, and inspire people to join us on our journey towards Living Seas, where wildlife thrives from the depths of the oceans, to the coastal shallows."