Limavady firm behind planned 'superdump' in administration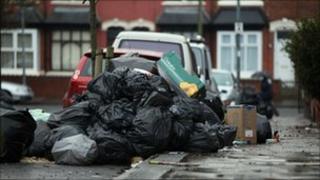 A Limavady building company that had been planning to develop a so-called 'superdump' near the town has been placed into administration.
B Mullan & Sons (Contractors) owned the Cam Quarry near Macosquin, County Londonderry, which had been earmarked as a landfill site to be used by seven councils in the north west.
However, a waste management company that was supposed to form a partnership with Mullans pulled out of the deal last year.
Two sister companies have also been placed into administration: B Mullan & Sons (Developments) and B Mullan & Sons (Pre Mix Concrete.)
HSBC had already placed some of the contracting firm's assets into receivership.
The quarry has planning permission so it is possible that any new owner will revive the 'superdump' scheme. Northern Bank hold a mortgage over the quarry.
The firm last published accounts for the year ending March 2010 showing an annual loss of more than £600,000.
A note in the account from the directors stated that the firm was experiencing challenging economic conditions and was in negotiations aimed at diversifying the business.
Those negotiations are believed to refer to the development of the dump.
Mullans entered into an arrangement with a Dundalk-based firm, Oxigen Environmental, to operate the dump.
However, Oxigen later pulled out saying preconditions about licences and quantity of waste had not been met and accordingly the joint venture was not viable.
The 2010 accounts suggest that B Mullan & Sons (Contractors) have bank borrowings of about £5m.
The firm, which had been operating since 1961, had also been a significant housing developer in the Limavady area.