32m euros of Sean Quinn Moscow income 'missing'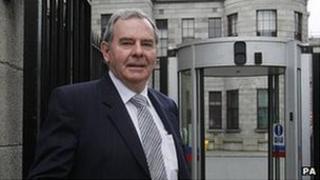 A judge at Dublin Commercial Court has expressed concern about a missing 32m euros in rental income from a Moscow property owned by Sean Quinn's family.
The former Anglo Irish Bank is looking to retrieve the money.
Judge Peter Kelly also reduced the monthly allowance for the Quinn children.
They had been allowed 2,000 euros each per week, but this was reduced to a monthly combined total of just over 30,000 euros.
Last week Judge Kelly was told that a Moscow property owned by the Quinns generated 35m euros in income.
Of that nearly 3m euros went to the Quinn children and their in-laws.
On Tuesday he said he was concerned no further information had been provided on the missing 32m euros.
The judge has previously accused the Quinns of operating a scheme of "mesmeric complexity" and "reeking of dishonesty" to put assets beyond the reach of the bank.
The former Anglo Irish Bank, now Irish Bank Resolution Corporation, is owed £2bn by Sean Quinn and sought to recover some of that from property owned by him in Russia and Ukraine.
Mr Quinn's son, Sean jnr, and nephew Peter Darragh Quinn were sentenced to prison earlier this month for contempt of court, as they breached an order not to put 500m euros of overseas property assets beyond the reach of the bank.
Mr Quinn snr avoided a jail sentence.
Insurance
Meanwhile, a judge at the High Court in Dublin has said he is shocked that the administration of Quinn Insurance Limited may now cost more than 1.6bn euros.
When the matter was before the court in October last year, Mr Justice Nicholas Kearns approved a potential pay out of 738m euros from the Insurance Compensation Fund to deal with the issues arising from the administration of Quinn Insurance.
However, on Tuesday he was told the joint administrators believed they could need 1.65bn euros in a worst-case scenario.
They believe the actual payout is likely to be between 1.1bn euros and 1.3bn euros.
The judge asked lawyers for the administrators if that meant the levy imposed on insurance policies in the Republic of Ireland since January could be extended for a very considerable number of years. Barrister Bernard Dunleavy said that was probably correct.
The 2% levy on home, motor and commercial policies came into effect on 1 January and was expected to last for 12 years.
Mr Dunleavy said the figures had been presented to the Department of Finance and that the minister for finance had assured the administrators that the Irish government would continue to fund the Insurance Compensation Fund to allow Quinn Insurance to meet its future costs.