Brothel accused Nicole Preisner in holiday bail request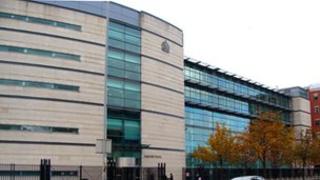 A German woman charged with controlling prostitution and brothel keeping in Belfast must lodge £1,000 as a surety before she can return to her homeland on holiday, a judge has ordered.
Nicole Preisner, 35, with an address at Holywood Road, Belfast, was detained as part of an investigation into alleged prostitution and human trafficking.
The court heard she is on benefits and can only raise £300 as a cash surety.
She was arrested alongside an Austrian woman during PSNI searches in January.
Her co-accused, Angelika Schneider, 43, of College Central Apartments in Belfast, faces the same charges but neither woman is accused of any trafficking offences.
At Belfast Magistrates' Court on Tuesday, Ms Preisner's lawyer said his client was seeking permission to go to Germany on holiday and wanted to reduce a bail condition that she must report to police three times a week.
Concerns
It was argued that the accused still has her German driver's licence and could have fled Northern Ireland at any stage if that had been her intention.
Questioning an investigating detective, her lawyer asked: "Have you any evidence that, post-charge, Ms Preisner has been operating brothels?"
The officer confirmed he had none, but expressed concerns about the future possibility.
The judge agreed to reduce the accused's reporting condition to twice a week.
However, he ruled that £1,000 in cash must be put up as a surety before any holiday out of the jurisdiction.
He also ordered that proof of travel bookings is to be shown.