Michael Shine charged with indecent assault on patients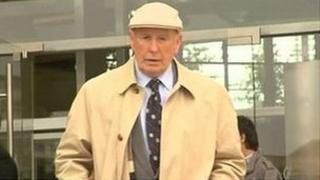 A retired consultant surgeon has appeared in court charged with indecently assaulting 16 male patients at a hospital and private clinic in County Louth.
The offences are alleged to have taken place over three decades in Drogheda.
Michael Shine, 80, from Wellington Road, Dublin was arrested in the city on Tuesday morning.
Dublin District Court heard that Mr Shine replied not guilty to each of the 25 charges.
In relation to one of the charges, he said he was not in Ireland at that time.
The alleged incidents took place at the private medical Fair Street Clinic and at Our Lady of Lourdes Hospital in Drogheda on various dates between the 1960s and 1980s.
He was remanded on bail and is due to appear in court again in October.
As part of his bail conditions, Mr Shine had to surrender his passport and must sign in weekly at Donnybrook Garda station.
His defence team objected to the bail conditions on a number of grounds, and told the court that Mr Shine had the use of an apartment in the Canary Islands and had planned to go there in August for a few months.
The judge agreed to allow the accused to travel but told Mr Shine that he must notify the senior investigating officer when he intended to leave and come back into the country, and if he intended to change address.