Dunmurry flood families could be out of homes for a year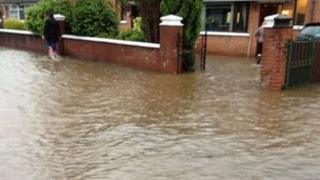 Forty families from Dunmurry whose homes were flooded last month, have been told it could be up to a year before they are able to move in again.
The Killeaton Estate was inundated by four feet (1.2m) of flood water and sewage during torrential rain.
They met politicians on Tuesday evening to discuss the issue.
The meeting organiser, Marie Marin, said there was a lot of frustration among the families affected as they still did not know why it had happened.
Some of the residents in the estate had to be rescued by boat.
Ms Marin said: "I would never have believed how devastating flooding in a house was. Honesty, it has probably been the most difficult thing that I've ever lived through personally."
Massive disruption
She explained that about 40 families from the estate have since been "displaced" across a wide area and every aspect of their lives had been affected.
She said that they were having to deal with builders and insurance companies, while at the same time trying to find alternative accommodation.
"It's massive disruption and the fear is, every time we look out at the rain, is this going to happen again?"
They invited local councillors and Stormont MLAs to the meeting in a local hotel, which was attended by about 70 people.
Ms Marin said the purpose was to get the community to come together and support each through a "really difficult time", to share information and to ensure that there is no repeat of the flooding.
The residents are still unclear about why their estate was so badly affected.
"There's a lot of anger and a lot of frustration and I think that comes from the fear among people that they don't really know what happened and therefore we're not able to say that this can't happen again," she said.