David Cameron hails Team GB's first Olympics gold medal win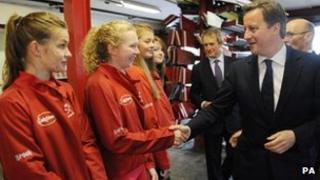 Prime Minister David Cameron has said Team GB's first gold medal win is "fantastic" news for the UK.
Rowers Helen Glover and Heather Stanning triumphed in the women's pair.
Speaking in Northern Ireland as part of his UK-wide tour to promote the Olympics, Mr Cameron said the Games had been "a huge success on every level".
Mr Cameron said the Olympics showed what the UK is capable of, even in difficult times, and would be an inspiration for future generations.
As part of his Northern Ireland visit, he met Olympic torch-bearers, travelled to a rowing club and toured the Giant's Causeway.
The prime minister began his engagements on Wednesday with a visit to Bann Rowing Club in Coleraine, where three Olympic competitors first trained.
He met rowers and officials, ahead of races featuring Team GB's Alan Campbell and brothers Richard and Peter Chambers.
"I wanted to come and see where they all trained," he said.
Mr Cameron then travelled to a reception at Coleraine town hall, where he was introduced to Olympic torch-bearers, including 18-year-old Katie Kirk who was one of seven young athletes to light the flame at Friday's opening ceremony.
"The idea of all those petals (of fire) coming together... it was extremely beautiful and moving, it was also a brilliant feat of engineering," he said.
'Magical moment'
The prime minister said it had been an inspired idea to have young athletes light the Olympic cauldron.
He told the teenager: "It was a beautiful, magical moment for our country and it was great that you were part of it."
Mr Cameron later went to the Giant's Causeway for a look at the new £18.5m visitors centre, which was opened last month.
He was accompanied by Northern Ireland Secretary Owen Paterson on a tour of the famous stones in windy conditions. He had neglected to wear an overcoat or bring an umbrella.
The appearance of the VIPs came as a surprise to some tourists, including Belfast couple John and Sally Corbett.
Mr Corbett said the prime minister "looks much younger in the flesh", while Mrs Corbett said: "It's great to see him taking an interest."
Mr Cameron confirmed last week he would be visiting Northern Ireland.
The prime minister said he wanted to ensure that the London Olympics benefited all four regions of the UK, not just the capital.