Belfast flooding response defended by agencies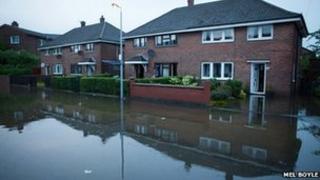 The agencies dealing with widespread flooding in Belfast in June have defended how they handled the situation.
Torrential rain on 27 June flooded many homes and businesses and a Belfast City Council report identified a number of shortcomings in the emergency response.
Sarah Venning of NI Water told the Regional Development Committee the rainfall had been exceptional.
But chairman Jimmy Spratt said there had been a "tug-of-war" over sandbags.
He said this was between NI Water, the Department for Regional Development and the Rivers Agency, adding that it was the following day before Castlereagh had any sandbags.
"I was given assurances on a number of instances that sandbags would arrive, but they never arrived. In some instances they were dropped at street corners," he said.
"I appreciated you were overwhelmed by the number of calls you had. It was a major one-off, it was unprecedented in terms of the rainfall, but we need to learn lessons."
He said sandbags should be made available "on the ground" as soon as possible.
The Roads Service apologised but said resources on the ground were "primarily deployed to roads related flooding".
Ms Venning said June had been a particularly wet month but that NI Water had been monitoring "critical sites".
'Infrastructure overwhelmed'
She pointed out that 58mm of rain had fallen within a few hours in Castlereagh on 27 June - more than the month of May.
"The drainage infrastructure was completely overwhelmed," she said.
"Our pumps and equipment operated continuously throughout the event, they just could not move the amount of water presented to them," she said.
Ms Venning said its website and social media sites had been updated and it was part of a team chaired by the council dealing with events in Sicily Park in south Belfast, which was particularly badly affected.
She said its customer relations centre and control centre in Belfast had alerted them to the flooding and a major incident plan activated.
Ms Venning said the sheer scale of the event became clear the following day and NI Water was involved in the "external and internal clean-up".
"While the suffering of those affected by the flooding events on the 27th cannot be diminished... it's important I thank NI Water staff and their contractors who worked throughout the night and tirelessly through those days that followed," she said.
NI Water is now looking at the sewer network using CCTV to show up any blockages and is monitoring its infrastructure.
Bill Gowdy of NI Water said there had been 260 internal flooding incidents - 90% in the greater Belfast area.
In other parts of Northern Ireland there were 440 external flooding incidents, 70% in the greater Belfast area.
"In total we were working on more than 1,000 jobs through NI water staff and contractors," he said.
Mr Gowdy said in the longer terms there was an investment plan to reduce flooding and pollution.
Plan moved forward
He said £420m was needed to alleviate sewer networks.
In the Glenmachan Street area - which drains Sicily Park and Boucher Road area - there had been a plan to spend in the region of £35m to upgrade the sewers from 2015 onwards.
However, following what has happened in the Sicily Park area over the past few years that has been brought forward to 2014.
"We can change our plans in accordance with emergency plans that do arise," he said.
The Roads Service said its incident plan had also been activated and more staff brought in. They took 700 calls and received 150 emails about the flooding.
A full, multi-agency review into the flooding is still ongoing.