Talks to keep HMS Caroline in Belfast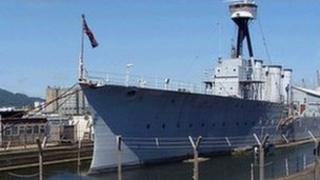 Tourism Minister Arlene Foster has said her department is working closely with the Museum of the Royal Navy to "develop a solution" which would allow HMS Caroline to remain in Belfast.
Ms Foster led a delegation for talks with the defence minister in London on 4 July.
A deadline of 1 August has been set aside while negotiations continue.
The National Museum of the Royal Navy have said they are planning to move HMS Caroline to Portsmouth.
The historic World War One warship has been berthed at Alexandra Dock in Belfast since 1923.
The minister was accompanied by Nigel Dodds MP and Northern Ireland Minister of State, Hugo Swire for the meeting with Andrew Robathan in London on 4 July.
Since that meeting officials from her department have had a "constructive meeting" with the Museum of the Royal Navy on 18 July and are continuing to work with them to find a solution.
A new campaign aimed at keeping the ship in Northern Ireland was officially launched in June.
Historic
Among those who have lent their support to keeping the ship in Belfast is the former Northern Ireland Office minister, Sir Richard Needham.
His great-uncle was commander of the historic warship.
Built in 1914 in Birkenhead, HMS Caroline was one of the fastest warships of the time, capable of speeds of up to 30 knots.
It is the last surviving ship, of any nation, that fought at the battle of Jutland in 1916.
Sir Richard said it was "vital" that the ship was kept in Belfast.
Around 80% of the ship is original and it has what are thought to be the only surviving in-situ World War I turbines in the world.
In later years, the ship was used as a training vessel for the Royal Navy reserve but was decommissioned in March 2011.