NI and Welsh education ministers rebuke English counterpart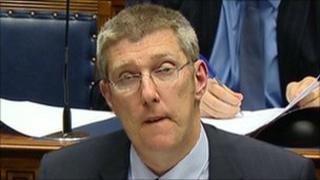 Northern Ireland's education minister has joined with his Welsh counterpart to rebuke the English education secretary.
John O'Dowd and Leighton Andrews are annoyed that Michael Gove has made a number of statements on GCSEs and A-levels without consulting them.
Although they centre on English exams, they would have serious repercussions for GCSEs and A levels in NI and Wales.
They want to be included in the preparation of future announcements.
In a letter, the Northern Irish and Welsh ministers told Mr Gove that better cooperation would avoid confusion and distress for students and teachers.
"Whilst we understand your wish to ensure that there are high quality qualifications in England, your announcements on proposed changes to what are jointly owned qualifications highlight the interdependencies between our respective jurisdictions and the importance of continuous communication," the letter said.
Impact
"Earlier involvement with us, or our officials, in the policy development process would reduce the risk of misunderstanding. It would also reduce the potential for mixed messages and confusion for learners, teachers and other stakeholders.
"We believe it would serve our learners and other stakeholders far better if we were to be aware of and sufficiently prepared for announcements which may impact on learners across the three administrations."
The letter ended with both ministers saying they would welcome the opportunity to meet Mr Gove to discuss how the "necessary protocols" could be put in place to ensure that each minister was aware of the other's intentions.