PM finds Giant's Causeway worth going to see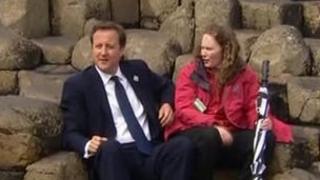 Mark is currently off on holiday, but his colleague, Martina Purdy, is standing in for him.
David Cameron ignored the critic who said of the Giant's Causeway, "worth seeing, but not worth going to see."
Of course, Dr Johnson did not have the advantage of a jeep when he made that remark about Northern Ireland's rocky coastal attraction.
The prime minister and his entourage swept into the windy seaside attraction, surprising tourists and delivering a message to his own critics: that he is not sufficiently engaged here, a charge delivered by Martin McGuinness, the deputy first minister, just weeks ago.
Both he and Peter Robinson have complained that they have not been able to meet the prime minister and that they have had more access to the US President Barack Obama.
The prime minister insisted this visit - the first in just over a year - was proof of his engagement.
"I don't accept I'm not engaged," he said. "In the middle of the Olympics I've chosen to come here to Northern Ireland to emphasise how important it is we all get behind the United Kingdom athletes including those from Northern Ireland."
Mr Cameron said it was a welcome trend that the prime minister did not need to meet the local parties for crisis talks - and also correct that their point of contact was the Secretary of State Owen Paterson.
Mr Paterson's recent expression of disappointment that there was not more progress on the community relations strategy led to a public spat with the first and deputy first ministers. But his view clearly resonated with the prime minister.
Mr Cameron was pointed in his desire to see progress here in Northern Ireland, particularly on a "shared future, not a shared-out future - it's local politicians who have to deliver on that".
The first and deputy first ministers were not on hand to meet the prime minister as both are on holiday.
It seemed the National Trust representatives were only too happy to meet and greet him at the new visitor's centre.
The Enterprise Minister Arlene Foster was inside the centre when Mr Cameron entered.
She seemed to come out from behind an exhibit to greet him. After a tour, the pair happily posed for pictures on the famous causeway.
She welcomed his remarks that he was committed to working through difficulties on the issue of corporation tax being lowered here.
All this optimism on the issue is at odds with the private pessimism on the issue.
"It's dead," one insider told me recently.
Still, the prime minister made sure he sat in the Causeway's legendary wishing chair before he left - and sure enough minutes later the news came through that the UK host had won its first gold medal at the Olympics.
Corporation tax and our economic woes, however, will not be so easily resolved.