Smithwick Tribunal: Owen Corrigan says collusion claim attempt to divert attention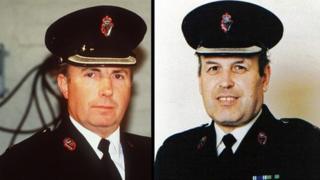 Allegations of Garda collusion in the IRA murders of two RUC officers were an attempt to divert attention from the "behaviour of British security services in Northern Ireland", the Smithwick Tribunal has been told.
Former garda Owen Corrigan said it was "in the interest" of security forces to prove the allegation, given claims of collusion with loyalist paramilitaries.
The tribunal is investigating allegations of Garda collusion in the murders of Chief Supt Harry Breen and Supt Bob Buchanan.
Both RUC officers were shot dead in an IRA ambush in south Armagh only minutes after leaving a meeting in Dundalk Garda Station in March 1989.
In April 2000 DUP MP Jeffrey Donaldson named retired Detective Sergeant Owen Corrigan in the House of Commons as the senior garda in Dundalk Station who had supplied information to the IRA.
In his evidence to the tribunal, Mr Donaldson said he had been given Mr Corrigan's name from a British army agent who had infiltrated the IRA, Kevin Fulton, also known as Peter Keeley.
Mr Corrigan described the statement, made under parliamentary privilege, as "made-up fantasy paid for by the British security services".
"The handlers knew it was going to be the widest possible audience BBC Northern Ireland was going to receive," he told the tribunal on Wednesday.
"The main aim was to divert attention from their behaviour in Northern Ireland."
Mr Corrigan also claimed that his difficulties at Dundalk Garda Station in the late 1980's had been "pre-meditated to a large extent by the RUC".
"They thought the same principle in Northern Ireland would apply here," he said.
"They were trying to impose a military solution on a political problem."
'Unfair'
The tribunal has previously heard that in 1987 RUC concerns about Mr Corrigan were passed on to the then Assistant Garda Commissioner Eugene Crowley but he did not appear to act on it.
Former Garda Chief Superintendent Tom Curran said he went to Mr Crowley and told him of RUC concerns about Mr Corrigan.
However, he said the assistant commissioner never lifted his eyes from a file he was reading.
Mr Corrigan said on Wednesday he had been well known to Mr Crowley, who "was not going to doubt" his integrity.
Mr Corrigan also described as "unfair" his questioning by tribunal lawyers.
"There has been no sense of fair play," he said.
"The fact is that Tom Curran received specific information of the impending murder of Supt Buchanan, and the tribunal lawyers did not question him if he had warned the RUC officer."
Mr Corrigan is one of three former garda sergeants under the spotlight at the tribunal. All three deny all allegations of collusion.
The tribunal is due to resume public hearings later this month.