Newtownabbey council rethink on cemetery opposite Children's Hospice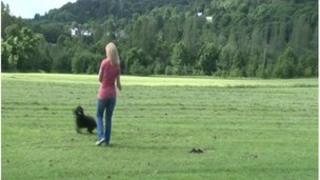 Newtownabbey Borough Council has has had a rethink about plans to build a new cemetery in Valley Park close to the Northern Ireland Children's Hospice.
The council has now said it will exhaust all other alternatives to find a suitable site.
Like many councils in NI, it is running short of burial space.
Newtownabbey is already home to the extensive Carnmoney cemeteries but now the council needs more burial space.
Cemetery space is at an all time low.
It is estimated that the Carnmoney cemeteries only have enough provision to cover the next 18 months.
When the council revealed in June that one of the sites it was considering for a possible new graveyard was Valley Park off the O'Neill Road in Newtownabbey, it faced a barrage of local opposition.
Residents and others accused the council of being insensitive as the park is overlooked by the Northern Ireland Children's Hospice.
There is also a children's play park which patients and their families often use.
Others expressed concern that the site was close to the expansive Carnmoney Cemeteries and would turn the gateway to the area into a super cemetery.
Local councillor Billy Webb, who is also the vice chair of the Northern Ireland Hospice, said the Valley Park site was only one of numerous options for a new cemetery.
"There never ever was the intention to have the cemetery here, what was decided was to explore the possibility," he said.
"This is quite a big site, it's a well used site.
"There's a children's play park but behind the green site that we have behind us, there's a lot of area that is not being used by the public.
"It is not accessible which is why we need to look and explore all land that might be available to us."
Around 6,000 people have signed a petition in an attempt to make the council re-consider its proposal.
It was set up by local man Derek McCabrey, who said he had been shocked by the response.
"A significant number of the people who have signed the petition are people who have personally suffered, people who have lost children," he said.
"They have written some very poignant and tragic stories of their experiences and then you get other people who on a point of principle, like myself, object to the idea."
Newtownabbey Council has said it is looking at other options, for instance the possibility of a crematorium at the Ballyearl site.
It has now also expanded the explorations for a suitable site at the Valley Park to further away from the hospice.
Councillor Webb said nothing has been decided yet.
"If the cemetery was to be located in any part of Valley Park, eventually that initial area will reach saturation point, therefore they will be looking to expand and there is only one thing that they can do then and that's move up Valley Park," he said.
"If the hospice is still there in the same location, the cemetery will eventually reach the hospice's doorstep."
No matter what way this pans out, Newtownabbey Borough Council must find burial ground and find it soon.
There are just 18 months left in Carnmoney cemeteries and five years in the Rashee and Ballyclare cemeteries if a new space is not found before then.
Consultants will now look at several sites on Valley Park and in other areas to see what is suitable, but I understand Newtownabbey Council is also to advertise for suitable land for a cemetery in the council area later this month.