Parents' delight at Chambers brothers' Olympic silver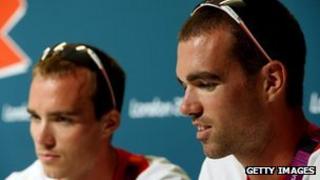 The parents of Coleraine rowers Richard and Peter Chambers have expressed delight at their sons' Olympic silver medal success.
The brothers were part of the Great Britain team that finished second in the lightweight men's four final.
Their mother Gillian said she was "chuffed" at their achievement and said it was "brilliant" they had claimed silver.
Father Eric said they had done "exceptionally well".
The Chambers brothers discovered their rowing skills on the River Bann as teenagers.
Peter, a world champion, took up rowing at Bann Rowing Club in Coleraine at just 13 under the guidance of Seamus Reynolds.
Richard is a two-time world champion, who competed in the Beijing Olympics four years ago. He began rowing at the age of 15, under the guidance of coach Bobby Platt.
Mr Platt said he thought the brothers' performance on Thursday was "outstanding".
"It was tremendous, a small thing on a boat just makes a difference in a situation like that," he said.
"There were no slips, it was just a matter of one crew getting to the line first. There were just inches in it."
He said that he was always confident that the Great Britain team would come back into the race and get a medal.
"I knew they had the strength to do that and the ability," he added.
"Perhaps if they had been able to hold on a bit earlier in the race they might have won it."
Stephen Smyth of Bann Rowing Club said he was "so proud" of the brothers' silver medal success.
"It was probably the most exciting finish to an Olympic rowing final in the last 20 years and Peter and Richard Chambers are superstars," he said.
"It is fabulous for Northern Ireland and for Bann Rowing Club."
Northern Ireland First Minister Peter Robinson praised the Chambers' "historic achievement" in becoming the first brothers from Northern Ireland to win Olympic medals.
"They have worked hard for this success and while they fell just inches short of the ultimate prize, they can be very proud of their achievement on the biggest stage of all.
"Their Olympic medal is fitting and just reward for the many hours they have spent in preparation for this day and I hope that their achievement will inspire further success for Northern Ireland competitors in the days ahead."
Deputy First Minister Martin McGuinness said: "As this race has shown Olympic medals are very hard won, and Peter and Richard put in a tremendous performance and while their strong finish elevated them to second they came agonisingly close to winning gold.
"They have won the praise and admiration of all and I hope and trust that tomorrow we will be celebrating more local success on the water when fellow Bann Rowing Club member Alan Campbell competes in the Men's Single Sculls final."
Northern Ireland Sports Minister Carál Ní Chuilín congratulated the brothers on their achievement and said she was sure it would "help to inspire and encourage local rowers".
"To take a silver medal in a global competition like the Olympics is no mean feat," she said.