Richard and Peter Chambers: brothers' Olympic silver medallists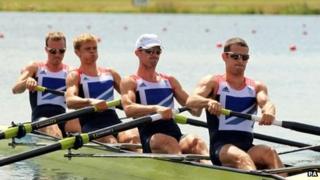 The River Bann runs the length of Northern Ireland, rising in the Mourne Mountains through the massive Lough Neagh before emptying out at Portstewart into the Atlantic Ocean.
It is a stretch of the 80-mile river around Coleraine, home of the illustrious Bann Rowing Club, where the Chambers brothers trained as teenagers on their long journey towards the London Olympics.
Richard, 27, and Peter, 22, joined team mates Rob Williams and Chris Bartley in taking silver in the lightweight men's four final at Eton Dorney, narrowly losing out to South Africa.
The age gap between the two brothers is just over four years, and it was Richard who first began charting the course which would eventually lead to Olympic silver at the age of 15 when he took up rowing as a student at Coleraine Inst.
Peter would follow in his wake two years later, joining Bann Rowing Club at the age of 13 under the careful watch of coach Seamus Reynolds.
Age gap
Club member Jeff Bones says the boys were "two cool and calm customers who were training and racing any time they could".
As with all siblings, the age gap seems to lessen as people get older, and their mother Gillian says the two boys were "always at different stages until they got to international level".
After leaving school, Richard went on to study construction management at Oxford Brookes University, where any homesickness he may have felt was diluted by the keen rowing tradition in the city.
He joined the college's rowing team under the tutelage of former triple world champion Peter Haining, and went on to reach the GB team, winning his first world title in 2007 at the age of 22.
Peter again followed his brother across the water to Oxford Brookes, where his rowing career thrived in tandem with his studies in sports science.
Watching his brother compete in Beijing four years ago would spur him on to strive for an Olympic place.
'Supportive'
While Richard confesses to being more of a hot-head compared to his more laidback younger brother, Gillian Chambers says both sons have a very close relationship.
"They would be very supportive of one another but that was easier when they were at different stages," she says.
"I think they continue to support each other but there's certainly a competitiveness between them."
Indeed, competition for places in the Olympic team was intense, and with six oarsmen vying for places in the final four, there was every chance that one brother could have ended up on the sidelines.
Their selection meant they were the first brothers to row together in a senior Team GB boat since the exploits of Greg and Jonny Searle, who took gold at the Barcelona Olympics in 1992.
Both brothers are devout Christians, and they were willed on by members of Coleraine Baptist Church who gathered there to watch their Olympics challenge on a big screen.
The race was close and exciting throughout, and Richard said afterwards it had been "brutal".
"We were fighting just to get in contention, to get silver was impressive," Richard said.
"We just dug our heels in and fought really hard."
It means Northern Ireland is celebrating its first medal win at London 2012, and a big party is planned in their honour back in Coleraine.