Northern Ireland Law Commission says Stormont must avoid delays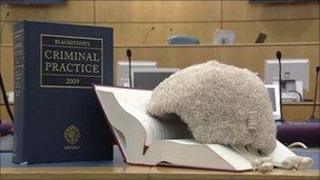 Proposals to reform the law in Northern Ireland must not be allowed to "gather dust in the corridors of Stormont," a High Court judge has warned.
Mr Justice Bernard McCloskey is chair of the Northern Ireland Law Commission, an independent body which reviews and recommends reform of the law.
The judge said the assembly could strengthen its authority and gain public respect by avoiding delays.
He was speaking as he set out the commission's second reform programme.
Justice Minister David Ford has recently approved its plans for 2012 to 2015, which comprise of seven areas:
Reform of the law relating to bail, where in contrast to England and Wales, there is no central governing Bail Act in place
Reform of conveyancing for multi-unit property developments, such as apartment blocks - the commission has been examining the legal issues which arise from interdependent living and the sharing of common areas, facilities and services
Regulation of health care and pharmaceutical professionals, aimed at reducing the complexity of governing laws which have developed in a piecemeal fashion over 150 years
Aspects of Landlord and Tenant Law, which has remained largely unchanged for more than 100 years; the commission says there is a compelling case for its modernisation
Unfitness of an accused person to plead; the commission is looking at what criteria should be used by the courts in assessing whether accused people have the capacity to understand proceedings, focusing particularly on the criminal justice system's interaction with people affected by mental health or learning disabilities
Availability and scope of the defence of insanity: the commission's review includes an assessment of definitions used in other jurisdictions and when it is applicable, medical examination arrangements, the stigmatising nature of the term 'insanity' and the appropriate court procedures
Initiation of criminal prosecutions, where the commission will examine delays in the criminal justice system, evaluating the current system and comparing it with how other jurisdictions perform
Mr Justice McCloskey said progress needed to be made on turning the commission's recommendations into legislation.
"We look forward to seeing our completed reports to the government of Northern Ireland bearing fruit in the form of concrete legislation with the minimum of delay," he said.
"The whole rationale and ethos of law reform will be dulled and undermined if the Law Commission's thoroughly researched and high quality reports, each accompanied by draft legislation, find themselves gathering dust in the corridors of Stormont."
The commission was set up in 2007. It aims to ensure that the law is "as simple, accessible, fair, modern and cost-effective as possible".
Its first programme of law reform comprised of five projects, three of which have been completed.