Ballycolman, Strabane, man 'twice moved suspect device'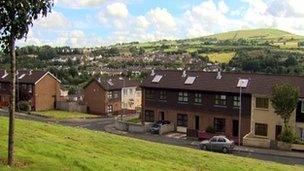 Police have been criticised for not responding to an emergency call after a man twice moved a suspect device in the Ballycolman area of Strabane.
Police have said they did not respond initially because it may have been an attempt to lure them into the area.
Sinn Fein has said it will raise the issue with the PSNI.
There have been a number of hoax devices left in the estate in recent weeks, causing considerable disruption, especially among the elderly.
After another suspicious object was discovered last weekend one resident decided to move it as he claims police refused to respond to an emergency call.
Residents have said they are angry about the impact on their lives.
"People are angry. They're angry at the police as well, they're not responding to these devices," one resident told the BBC.
Another said: "I don't think it should be happening. I don't think people should have to put up with that. Them days are over with."
Sinn Fein councillor Brian McMahon said residents are worried about how the incidents are being handled.
"Nine or 10 times these are all hoaxes but God forbid if a time came and somebody lifted something and there was an explosion," he said.
"There could be a big tragedy here and then the questions will seriously need asked 'what happened and what went wrong?'.
In a statement PSNI Strabane area commander, Chief Insp Andy Lemon said when there is a security alert, consideration is given to many factors including the possibility it may be a "deliberate attempt to lure police into the area".
He said police did go to the scene after the object had been moved on two separate occasions - and while he commended the bravery of the man - he strongly urged people to "consider their personal safety" and asked them "not to approach or touch suspicious objects".