Police search for unexploded device in west Belfast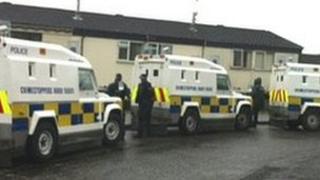 A senior police officer has said she is concerned there could be an unexploded device on the Glen Road in west Belfast.
Around 100 homes and businesses have been evacuated while police continue an investigation into a reported mortar attack on a PSNI patrol a week ago.
Residents in the area could be out of their homes for several days.
It is the fourth search in the area since the reported attack on police on the Glen Road last Friday.
Police are advising business owners and residents whose premises are on the countryward side of Hannahstown Hill that they are now able to return to their properties.
The PSNI operation began after police officers reported being shot at in the area of the bus terminus in the early hours of Friday morning.
Police confirmed the only evidence of damage on the land rover was a minor dent.
Previous searches have so far failed to find anything suspicious in the area.
West Belfast area commander, Ch Insp Emma Bond, said: "Certainly our officers last Friday morning reported that they had been shot at and that was the basis upon which the investigation commenced into the attempted murder of police officers.
"On Tuesday morning, information was made available through a local media outlet with a claim that a gun and a mortar attack had actually taken place last Friday.
"The investigation has obviously progressed taking into consideration this alleged suggestion that there was a further attack on officers at the same time."
She said, based on the allegations that a mortar attack had taken place, there may be a device in the area of the Glen Road which police had not yet recovered during their searches.
Minimise risk
"We have a concern that as a result of the reckless actions of those people on Friday morning that not only were my officers, but more importantly the local community of west Belfast, have been put at significant risk and the purpose is to try and ensure we eliminate that risk and protect the local community," she said.
"Our concern is that there is an unexploded device in the vicinity of the Glen Road, hence the searches that have been carried out and the slow process that has been taken in order to try to minimise that risk to members of public."
Police said it was unfortunate that residents on the Glen Road between Suffolk Road and Shaws Road had to leave their homes to enable police to carry out further searches.
The PSNI has warned that the searches could last for a number of days.
Local residents have been advised and have been given time to prepare before they leave their homes.
Rest centre facilities at the Glen Community Centre in Carrigart Avenue have been set up, but police hope most people will be able to stay with family or friends.
SDLP councillor Nichola Mallon's mother and father were among those who had to move from their homes.
Her mother is disabled and was left frightened at having to leave her home.
"I've had to take her to a relative outside Belfast because they have a downstairs toilet," she said.
"Now my mum and dad are trying to find out where they can get suitable accommodation or possibly looking at having to pay for a hotel."
She appealed for those behind the attack to end the disruption for local residents.
"They need to come forward, whether anonymously or through whatever vehicle or mechanism that they can, to say if there is a device there and its whereabouts, to enable people to get back to their homes as quickly as possible," she said.
Disruption
"If they have the true interests of the community at heart, despite what they have done, then they will come out as men and say that today."
Ch Insp Bond apologised to residents in the area for the ongoing disruption.
"Our aim is to ensure the safety of the local community and to protect everyone," she added.
"It is imperative that we carry out this search as part of our investigation and we would ask the public for their patience and understanding as this policing operation continues."
Up to 40 businesses have been evacuated because of the searches, including the Belfast Media Group.
Managing director, Martin O'Muilleoir said: "We have 50 people up there trying to provide a community service and we're sticking at it.
"We're not going to let whoever this group is close us down.
"We'll do what we can on Friday and hopefully the police can bring an end to this swiftly and find whatever it is they're looking for."
Sinn Féin MP for West Belfast Paul Maskey said a dissident micro-group calling itself Oglaigh na hEireann (ONH) had once again disrupted the nationalist community in the area.
The group claimed responsibility in the Irish News/Andersonstown News on Tuesday for the attack on police.
ONH is made up of a small but dangerous group of dissident republican hard-liners that has emerged in recent years.
Searches
"The disruption caused to this community over the past week has now culminated in over 100 homes being evacuated and local businesses closed," Mr Maskey said.
"This is all due to this group claiming they have fired a mortar in a built-up residential area which has not been found.
"In doing so and in carrying out this attack they have shown utter disregard for this community, a community they purport to represent.
"Those responsible need to issue a clear statement as to where this device would be, where it was fired from and why they carried out such a reckless attack in a built-up, busy residential area."
Mr Maskey said the group needed to also realise that there was "no community support for their actions".
"The people of Ireland have very clearly chosen a peaceful political path and they should follow suit," he added.
Drivers are asked to avoid the area.
Police have said there will be traffic disruption on Hannahstown Hill and the Glen Road.