Man denies hitting pregnant girl in Enniskillen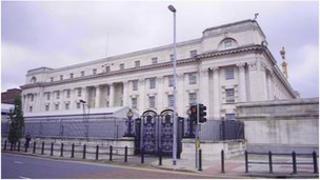 A man squeezed a pregnant teenager's stomach and pulled out her hair extensions during an alleged assault, the High Court has heard.
Kevin Williamson, 19, of Galliagh Park, Enniskillen also grabbed the girl and pulled her downstairs, it was claimed.
The pair were then found in bed together after the children's home where the alleged victim was staying, reported her missing.
Mr Williamson denies two charges of assault.
The prosecution told the court on Friday that the girl, who was 17 years old and six months pregnant at the time, was found in a distressed state at Mr Williamson's home on 28 July.
She claimed Mr Williamson had grabbed and squeezed her stomach and pulled out her hair extensions following a row.
A day later police found the girl at another address with Mr Williamson.
She has since withdrawn her complaint against him but was described in court as "very vulnerable".
A defence lawyer said Mr Williamson only agreed to meet the girl again because she rang saying she was in pain.
He said Mr Williamson suffered from attention deficit hyperactivity disorder and had low intelligence.
The judge said he was minded to grant bail to the accused but adjourned the application until an address for him is found in a different town from the alleged victim.