Mary Black stars at west Belfast feile in Clonard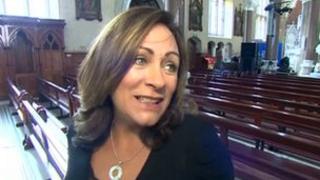 Ireland's biggest community festival plays host to musicians, comedians and artists in west Belfast over the next 11 days.
One of the big concerts in this year's Feile an Phobail is happening at Clonard Monastery on Friday night.
Tickets were sold out for Irish singer Mary Black.
"it looks amazing. We were here eight years ago and I had an amazing night. It stood out in my mind and I remember it very clearly," she said.
"But coming back and seeing the work that has been done. It is going to be a great night. I love my Belfast crowd they have always been very supportive down through the years."
Michelle McTiernan from the feile said: "There is a whole hive of activity from the Wolfe Tones, Comedy Night, Bad Manners, the Drifters.
"We have the face of Feile in the Kennedy Centre and Music on the Metro. So we have something for everybody including a party in the park as well for the kids.
She said the Mary Black concert was certainly the highlight.