Bail refused in Lisburn triple robbery case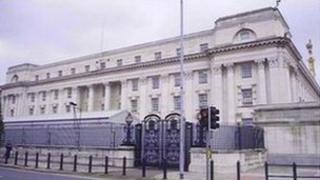 A Lisburn man robbed three shops in 24 hours in a bid to pay off a £4,000 drugs debt, the High Court has heard.
Brian Matthew McKibben, 28, of Tonagh Gardens, is accused of holding up a convenience store, tanning salon and filling station in the city.
Prosecutors said a knife was used at two locations, with a baton wielded during the third incident.
Mr McKibben, who faces charges of robbery carried out on 2-3 May, was refused bail.
Cash and cigarettes were stolen at knife-point from Warren Stores in the County Antrim city.
A similar weapon was then used to take money from staff and customers at Tanning City.
'Armed with baton'
Mr McKibben is also alleged to have gone into the Hillsborough Road filling station demanding more cash.
On that occasion he was armed with a baton, a judge was told.
Following his arrest, he made full admissions to all three incidents, according to a prosecution barrister.
She said: "He claimed he carried out these robberies when he was fuelled by drink and drugs, and he said he was committing these offences to pay off a substantial drug debt of £4,000."
Applying for bail, a defence lawyer confirmed McKibben had made the confessions, but claimed to have acted under duress.
He said that any risk of re-offending has been reduced by his client's parents having paid off the debt.
However, Mr Justice Maguire refused bail due to the concerns of any possible further crimes.
The judge added: "It would seem inevitable that staff of the premises which were subject to these robberies would have been put into considerable fear."