33 Police Service of Northern Ireland officers suspended in one year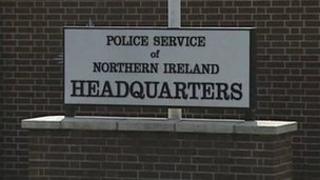 Thirty-three police officers have been suspended from duty over the past year in Northern Ireland.
The suspensions followed a series of allegations including assault, a sexual offence, death threats, being drunk in charge of a loaded firearm and theft.
Two officers were dismissed and four were required to resign over the period from 1 July 2011 to 1 July 2012.
The PSNI released the figures following a Freedom of Information (FoI) Act request from the BBC.
Full pay
Other allegations against suspended PSNI officers included failure to investigate, inappropriate use of police systems, criminal damage, perverting the course of justice and perjury.
Of the 33 PSNI officers who had to step aside from their duties, none had been suspended for more than a year.
Suspended officers still receive full pay and on 1 July 2012, the officer serving the longest period of suspension had been out of work for 282 days.
The total salary paid to the suspended officers was just under £265,000.
The officers were suspended for an average of four months.
Investigated
In its response to the BBC's FoI request, the PSNI said it "expects its staff to behave professionally, ethically and with the utmost integrity at all times".
"Any conduct, whether on or off duty, which brings or is likely to bring discredit on the police service will be investigated in order to establish whether or not a breach of the code of ethics has occurred."
However, the PSNI pointed out that not all investigations result in the officer in question being found guilty of either misconduct or a criminal offence.
It added: "The decision to suspend an officer is only taken in exceptional circumstances after all other options, including alternative duties, have been considered."
In 2008, the PSNI confirmed that of 35 officers who were on suspension at the time, one officer had been suspended for more than seven years on full pay.
Chief Superintendent Mark Hamilton, the senior officer responsible for maintaining discipline in the PSNI, said work was taking place on reforms which he hoped would be in place next year.
"If you woke up this morning and heard those figures, you would rightly be alarmed that police officers are engaged in this sort of conduct," he said.
"I would want to re-assure the public that the fact that we have 33 officers suspended, indicates that we are holding our officers to a very high level of accountability, both on duty and off duty."