Sculpture of Mary Peters offered as gift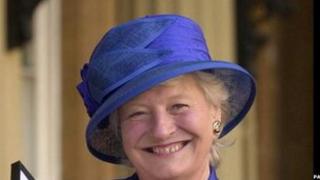 A local sculptor has offered to 'gift' a sculpture of Dame Mary Peters to Belfast City Council.
Whiteabbey-based John Sherlock is one of Northern Ireland's leading sculptors.
If his offer is accepted, the sculpture would stand at the refurbished Mary Peters Track in south Belfast.
The track is undergoing major improvement works which are due to be completed in early 2013.
Dame Mary Peters won gold in the pentathlon at the Munich Olympics in 1972 and gave her name to the track, which opened in 1975.
The refurbishment will see the construction of a new stand, the replacement of the existing six-lane track with an eight lane track and field events area, and new floodlighting.
Mr Sherlock has completed a number of public sculptures in Northern Ireland, including one of Professor Frank Pantridge, inventor of the portable defibrillator, which is located outside Lisburn Civic Centre.
He has now offered to gift a sculpture based on Mary Peters' gold-medal celebration to the council, which has responsibility for the track.
Mr Sherlock has also offered to supervise the construction and erection of the sculpture.
The subsequent cost of casting and building a plinth for the sculpture would then come to around £20,000.
The proposal is due to be discussed by the council's parks and leisure committee on Thursday.