PwC Economic Outlook finds NI lost 11,000 jobs in two years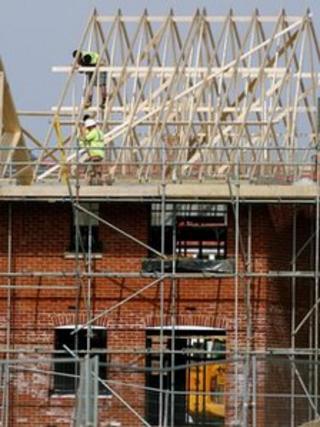 Almost 11,000 jobs have been lost in the private sector in Northern Ireland in the past two years, according to a PricewaterhouseCoopers report.
Its Economic Outlook report predicts the Northern Ireland economy will shrink even further this year.
It said Northern Ireland's economy was lagging behind the UK as a whole.
PwC said the local economy had been steadily contracting since the middle of 2011 and predicted it would shrink by a further 0.4% this year.
It calculates that out of the thousands of private sector jobs that have disappeared between March 2010 and March 2012, the greatest impact was felt by the construction and retail sectors, which lost 5,710 and 5,820 jobs respectively.
Over the same period, around 500 jobs went in financial services, 230 in food processing and 100 in tourism and leisure. The only sector to grow employment was manufacturing where job numbers increased by 1,390 over the two years to March 2012.
Finance Minister Sammy Wilson said it was important to keep the figures in perspective.
"Northern Ireland still has unemployment which is below the national average," he said.
"We still perform better when it comes to youth unemployment.
That's not to be complacent but I think that we have sought to take what action we can take to try and keep the economy afloat in very, very difficult times."
PwC blames the job losses on the eurozone crisis and public spending constraints, which have taken their toll on business confidence, exports and overall investment.
The authors of the report believe that if the eurozone crisis is dealt with, recovery will begin next year, but if it is not, PwC says the local economy is facing "very serious problems indeed".
Dr Esmond Birnie, PwC chief economist in Northern Ireland, said if the eurozone crisis was resolved, or at least diminished, the region could see some modest recovery and growth in 2013, driven primarily by manufacturing exports.
"Over the past two years, Northern Ireland has continued to attract outside investment and reinvestment by externally-owned firms already operating here," he said.
"A number of our larger manufacturing exporters have also been successful in export markets and we have even seen some modest growth in manufacturing employment.
"The problem is that too few local companies are internationally competitive and our historic reliance on steady public spending growth means that Westminster's austerity programme is hampering the Northern Ireland Executive's ability to commission major infrastructure programmes.
"If the eurozone crisis is dealt with, we can expect recovery to begin next year; but if the crisis deepens we are facing very serious problems indeed."