Fermanagh council to send letter of support to Quinns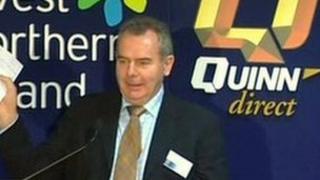 Fermanagh District Council is to offer its "moral wishes of support" to bankrupt billionaire Sean Quinn and his family.
Chief Executive Brendan Hegarty will be sending a letter in light of the "significant contribution" by the Quinns to the border area.
Last month, a judge ruled that Mr Quinn, his son, Sean Quinn Jr and nephew, Peter Darragh Quinn, were in contempt of court. They hid millions in assets from the former Anglo Irish Bank.
Despite the legal proceedings, support for the Quinn family has been strong in the border areas.
A spokeswoman for Fermanagh District Council said that the chief executive would be writing to the Quinn family on behalf of the council.
It will say: "In light of the significant contribution by the Quinn family to the economic and community well-being of Fermanagh and the border area, the council took a decision to write acknowledging that this was a very difficult time for the family."
The Enniskillen-based Impartial Reporter said that Independent councillor Bernice Swift had brought forward a proposal to write to the family "in their time of distress" at Monday night's council meeting.
Describing the Quinns as a family who have "provided a lot of employment to the border county" in the past, Ms Swift said she believed it was important the council showed support "in good times and bad".
The former Anglo Irish Bank was bailed out by Irish taxpayers and is now controlled by the Irish Banking Resolution Company (IBRC).
Following last month's proceedings, Sean Quinn Sr avoided jail but must co-operate with the IBRC within three months.
Mr Quinn jnr and Peter Darragh Quinn were given three-month jail terms.
Sean Quinn jnr is now in prison, although Peter Darragh Quinn failed to appear for sentencing and a warrant for his arrest was issued by the High Court in Dublin.
Several thousand people attended a rally in Ballyconnell, County Cavan, on 28 July Sunday to show their support for the family.
Among those attending was prominent priest Father Brian D'Arcy who described what has happened to the Quinn family as a "tragedy".