Gerry Adams calls for Disappeared info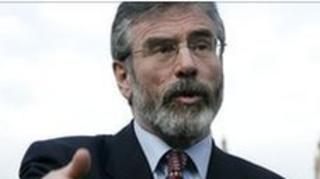 Sinn Fein president Gerry Adams has made a new appeal for information about the remains of people murdered and secretly buried by the IRA.
Mr Adams has previously denied allegations that he was involved in, or had knowledge of, the disappearances.
Mr Adams met recently with the Commission for the Location of Victims Remains.
He said: "It is vitally important that those charged with this difficult task have all the information possible".
Nine bodies have been recovered but seven have still to be recovered.
"If there is any other information available which might help I am appealing again for those with it to now bring it forward," said Mr Adams.
"I want to commend and support all the families who have suffered a grievous injustice and who have campaigned with dignity for many years to locate the remains of their loved ones.
"I also want to acknowledge once again the grave injustice inflicted upon these families and to express my deep regret about this.
"I want to thank everyone who has worked to help the families. They deserve our full support.
"it is imperative that efforts continue to find the remains.
"The suffering of all of these families have gone on too long.
"They have a fundamental right to bury their loved ones and there is an onus on everyone to help bring this about."