London 2012: Golden moments in a city transformed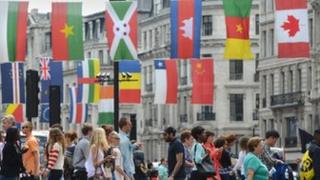 This could be tough. London 2012 as a punter. A moment of truth.
Almost a year ago a raft of tickets were secured in two rounds of the lottery, low cost flights to Gatwick booked and a spot on a friend's sofa in Clapham secured.
Then it was just months of slow building anticipation and receiving emails from Locog.
But there were worries. What if it was all an anti-climax? What if the transport was a nightmare? What if it rained for the entire weekend?
We shouldn't have worried. Team GB, Seb Coe and his mates and Angie Philips made sure that the entire experience was as close to perfect as possible.
From landing at Gatwick the transport was virtually painless. Okay, it took a while at times but that's what you get for being a cheapskate instead of forking out on a hotel.
Slick searches
All the Olympic venues were signposted from every tube station. Games Makers - that's the official Olympic volunteers in the purple tops - were everywhere. Often answering questions before you had even asked.
They were crucial in getting the fans on the right line and in the right direction. And transport was free on the day you had a ticket for an event. The travel card usually costs around £15. Some of our tickets were only £20.
The venues - and we were lucky enough to get to four of them to see boxing, football, hockey and beach volleyball - were superb.
It often involved a fair bit of walking but they were usually designed to enter by one gate and leave through another. The much dreaded airport-style security searches were slick and carried out by soldiers with the minimum of fuss and incredible good humour. Airports take note.
The Olympic Park was vast. A new city in the east of a city. It took a while to navigate with the crowds but there was always something to see, something to do.
Buzzing
Swimmer Rebecca Adlington waving from the BBC studio nearly caused a riot. London 'bobbies' posing for photos with children wearing their helmets. And a million people doing the lightning Bolt.
But the best thing about the whole experience was the atmosphere. An intangible thing at best but you felt you could reach out and touch it.
Not only was the 'Greatest Show on Earth' in town, it was the only show. No one was talking about anything else.
After Team GB's three athletics golds in an hour on Saturday the centre of London was buzzing. Everyone was talking about Jess Ennis and Mo Farrah.
Outside every bar or restaurant someone was saying: "I've never even heard of that fella Rutherford".
And the next night it stepped up another notch. The most eagerly anticipated 10 seconds of the most anticipated three weeks in British sporting history.
Joy
Watching the GB men's hockey team roar back from three goals down to draw with the mighty Australia set us up nicely.
The athletics stadium held 80,000 fans for the 100m final.
Ten of thousands of other fans crowded into the nearby fan park and held their breath. Four school friends from Newtownards standing alongside a South Africa couple, an entire Canadian family and two Londonders.
Usain Bolt is the world's biggest sporting draw and in 9.63 seconds he proved why. And we all trooped home happy, relishing our microscopic involvement in a piece of Olympic history.
The last word has to go to the Londonders. So often gruff and intolerant of tourists, they were a joy to be around.
Instead of heads down on the tube they were giving directions, answering questions and asking people what event they were going to.
The image of a commuter calling a woman back and making sure she got on the right train and knew where to change will stay with me always.
It's their city but it was everyone's Olympic Games.