Belfast Trust endorses plan on future A&E services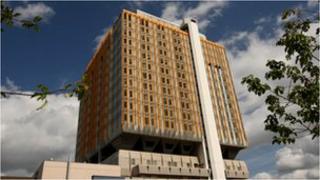 Belfast Health Trust has endorsed a consultation paper outlining the future of accident and emergency services across the city's three main hospitals.
It approved a recommendation that A&E units should be retained at the Royal Victoria and Mater hospitals only.
A question mark still remains over the long-term future of Belfast City Hospital's A&E unit which closed temporarily on 1 November last year.
The Health and Social Care Board is due to discuss the issue on Thursday.
When the City's A&E unit shut, it was reported that hospitals nearby would have to cope with an extra 40,000 patients attending their emergency departments.
Reduction
At a specially convened meeting of Belfast Health Trust on Tuesday, senior executives were given details about how the closure has been affecting Belfast's other two main hospitals over the past nine months.
Dr Patricia Donnelly, the trust's director of acute services, produced figures showing that the number of people going to emergency departments at the Royal Victoria and the Mater hospitals had dropped by around 15%.
She also confirmed that over the same period, there has been a 26% reduction in patient waiting times at both those emergency departments.
Dr Donnelly said trust executives discussed three options which included having A&E services at all three main Belfast hospitals, retaining emergency units at the Royal and Mater and thirdly, concentrating A&E services at the Royal only.
She explained the trust had looked at different criteria, including patient safety and quality of service before deciding to endorse the option of retaining A&E at the Mater and the Royal only.
'Able to cope'
Dr Donnelly said "any solution would have to have the RVH" because it is Northern Ireland's regional trauma centre, and has intensive care provision, cardiac surgery, neurosurgery, fracture clinic and also specialises in the treatment of stroke patients.
She added the Mater Hospital was "a small district general hospital" which has "fewer blue light ambulance attendances for seriously complex or ill patients so they're able to cope with those patients very well".
She argued that it was "well understood" that over the years Belfast City Hospital had become known as a specialist centre for cancer, oncology, renal, and urology provision.
Dr Donnolly said the trust wanted patients who needed urgent treatment for such long-term conditions "to come directly to that speciality and not have to go through an emergency department".
'Problem'
She added that the temporary closure of the City A& E unit had been taken without public consultation.
"We would have preferred to have been in a position where we could have taken a more strategic and more carefully thought out proposal but because of shortages of middle grade doctors in emergency departments - which right round the UK is a real big problem - we couldn't sustain three emergency departments, so you have to make choices and we had to act very quickly."
The consultation paper will now be put before the Health and Social Care Board on Thursday.
It is then likely that the Health Minister Edwin Poots will launch a public consultation on the proposals.
The outcome of Tuesday's meeting could lead to a decision within months on the long-term future of Belfast City Hospital's Accident and Emergency unit.
The unit closed on 1 November last year, due to a shortage of senior staff but at the time the closure was described as temporary.