Titanic Boys musical opens at Belfast Grand Opera House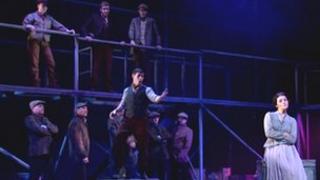 The Grand Opera House is opening its doors later to a musical interpretation of the Titanic story.
The ship, built at Harland and Wolff in Belfast, sank on its maiden voyage across the Atlantic in April 1912 with the loss of more than 1,500 lives.
The Titanic Boys is about the lives and fates of nine apprentices and workers who were specially selected to go on the journey.
Writer Martin Lynch said it is a real part of the story and needs to be told.
"It was only when I found this story of the guarantee boys after some research... it just blew me away," he said.
"Belfast people, I think, will love this story. It's not the usual story of the great and the good and the people we know from the films.
"This is a hardcore Belfast story about a ship that, in this instance, is coming home."