Ballycastle council to decide on Lammas horse trading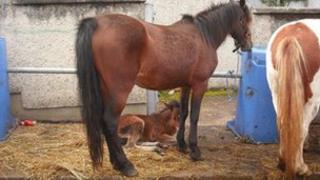 Moyle Council will decide next Monday whether or not to allow any horse trading on the street at the Auld Lammas Fair in Ballycastle.
For 400 years, buying and selling has taken place on Fairhill Street, surrounded by crowds of fair-goers.
Earlier this year, councillors banned the tradition following concerns about health, safety and animal welfare.
The council then set up a working group which came up with the idea of staging horse trading on playing fields.
But traders want to continue with the tradition of getting the horse to run up and down the street.
Vincent Traynor, a local horse and fair enthusiast, said farmers were keen to take the middle ground.
"We are still hopeful that there could be a wee bit of work going on in the street," he said.
"We do understand there is legislation for animal welfare, but various other fairs have not these issues. We can't understand why Ballycastle has to take it to this extreme level."
"With just three weeks to go, we are asking the council to monitor this, I am hoping they take our points on board and hopefully we can make Ballycastle a safer fair."
SDLP councillor Donal Cunningham belongs to the working group which has been looking at ways of accommodating animal welfare and tradition.
"We know that the nature and history of the fair always has included the horses. Bearing that in mind, we think we can put together a proper management structure and we can make it a workable solution," he said.
Mr Cunningham said under the Animal Welfare Act, there were issues in terms of offering access to water, hay and personal space to the horses.
"2012 would be our chance to consider these controlled issues," he said.
"The option proposed means stricter controls and the use of the field and the fair green."
New legislation means the council is now responsible for animal welfare.
The fair, held in Ballycastle on the last Monday and Tuesday in August, has been running for about 400 years.
It has been growing in recent years with more than 400 stall-holders now catering for crowds in excess of 200,000.