Criminal assets fund youth Inside Out bus in east Belfast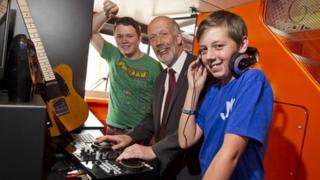 Money seized from criminals has been put towards a bus equipped with a high-tech music studio in an effort to steer young people away from becoming involved in crime in east Belfast.
The Inside Out bus, developed by Dundonald Elim Church, has brand-new computers and mixing equipment.
The Department of Justice provided £90,000 towards the project by using money recovered from criminal assets.
Justice Minister David Ford got a chance to try his hand at some of the activities on offer, and he said it was good that local teenagers would have the opportunity to to try something new and develop new skills.
"It's all a matter of looking for different kinds of activities to divert young people from anti-social behaviour, give them something constructive to do and thereby help reduce low-level crime and indeed the fear of crime," he said.
Pastor Phil Hills said they had bought the former London red bus and fitted it out with computers and musical instruments.
"It has a large screen facing the doors to attract kids inside, and it's wheelchair accessible," he said.
"It also has games consoles so kids can chill out."
Youth worker Craig Brotherston said: "Ultimately the aim is to build some relationships with teenagers and try to keep them off the streets or help them get their lives in check."