Mixed-sex hospital ward policy needed in NI says RQIA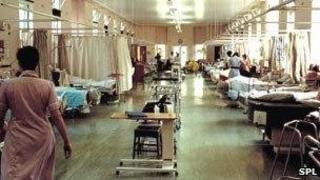 A single policy on treating hospital patients in mixed-sex wards is needed across all of Northern Ireland's five health trusts, according to a report.
The Regulation and Quality Improvement Authority praised the Southern and Western Trusts for their zero tolerance approach to mixed gender accommodation.
Daily incidences in the Belfast, South-Eastern and Northern Trusts were found.
The RQIA said the situation was less clear than in England, where men and women on wards is mostly unacceptable.
The report by the independent body follows a three-year study.
'Clear policy statement'
RQIA chief executive Glenn Houston said the three trusts where mixed gender wards were reported said it only happened when single sex accommodation was not available.
He said the Department of Health must "develop a clear regional policy statement on care in mixed gender accommodation".
"RQIA also recommends that the Health and Social Care Board and Public Health Agency, when initiating programmes to improve performance targets or patient flow, should consider any unintended consequences on the quality of the patient experience," he added.
In England, hospitals must ensure patients share sleeping, bathroom and toilet facilities only with people of the same sex.
This applies to all wards except intensive care and A&E, and hospitals face fines if they do not meet the required standards.