Teenager not allowed within 500 metres of any parade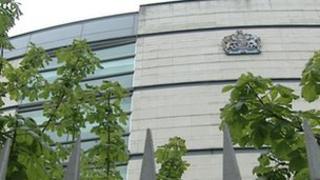 A 17-year-old boy accused of taking part in Twelfth of July rioting in north Belfast must not be within 500 metres of any parade, a judge ordered on Thursday.
The youth, who cannot be named because of his age, was arrested in connection with last month's trouble in the Ardoyne area.
He faces charges of riotous assembly and indecent behaviour.
Twenty police officers were injured during the disturbances.
Trouble started after a contentious Orange Order parade and counter-demonstration by nationalist residents.
Police confirmed at Belfast Magistrates Court that they were not opposing bail on certain conditions.
The terms were produced for the approval of District Judge Fiona Bagnall.
She said: "He (the accused) is not to be within 500 metres of any parade - Orange, Black or Apprentice Boys."
The accused was further prohibited from going within 200 metres of the Ardoyne shops and from entering the city of Londonderry.
Judge Bagnall also imposed a night-time curfew, alcohol ban and electronic tagging conditions.
The teenager was released on bail to appear again before Belfast Youth Court on 31 August.
Another 17-year-old charged with criminal damage and riotous assembly in connection with the disorder at Ardoyne is due in court next month.
Meanwhile, a 25-year-old man arrested on Wednesday in connection with a petrol bomb attack on a house at Drumlough Gardens in Lisburn early on 12 July, has been released on bail.
He was questioned on suspicion of making, possessing and throwing a petrol bomb and about a number of drugs offences.