£3m legacy for Northern Ireland boxing clubs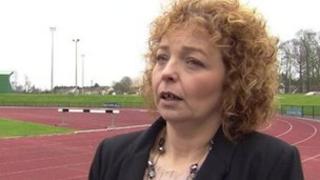 Boxing in Northern Ireland is to get a cash injection of £3m, the sports minister has confirmed.
Caral Ni Chuilin highlighted the investment in boxing, announced earlier this year, after two NI boxers Paddy Barnes and Michael Conlan secured Olympic medals.
"Barnes is the first Irish boxer to win back-to-back Olympic medals," she said.
"In communities across the north, boxing is much more than a sport, it is a lifesaver," she said.
She added that the money should be available by the end of the year.
"The Olympic wins have added to the building excitement and awareness of what the boxers are doing in terms of their achievement," she said.
"It is testimony to people like Paddy's father and Gerry Storey (Olympic boxing trainer) and the Holy Family Boxing Club.
"This is about small clubs putting in huge investment in terms of their time and skills into people like Paddy and Michael."
Ms Ni Chuilin said boxing was vital in communities across Northern Ireland.
"It takes children off the street, it invests in those children, it gives them a sense of self-worth, it gives them a sense of discipline to perform and they perform not only for themselves and for their clubs, but as Michael Conlan and Paddy Barnes and the other great local boxers have shown, they can perform at the highest level."
The sports minister said that when she took over her role last year, she was shocked at the lack of funding in boxing over the decades.
"Yet of practically all the sports, boxing has yielded more medals and success.
But the facilities in some clubs are very basic. "St John Bosco Club does not even have a toilet," she said.
"You have clubs like Clonard with pigeons flying through. Despite those conditions, the success is unbelievable."