From tough beginnings: Belfast boxers clinch Olympic medals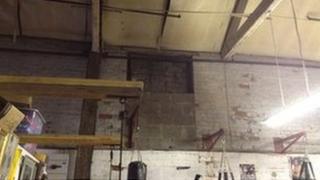 Pigeons, no toilets, no showers and what one boxing commentator called "conditions you wouldn't keep a dog in" - the clubs that produce Olympic champions are not deluxe.
Nevertheless Irish boxers are still the success story of the Olympic games.
This week, Belfast boxers Paddy Barnes and Michael Conlan made history clinching Olympic medals for Ireland.
And NI sports minister Caral Ni Chuilin highlighted a £3m cash injection for the sport, announced earlier this year.
She said the sport was a "life saver" in communities across Northern Ireland.
It takes children off the streets, she said.
"It invests in those children, it gives them a sense of self-worth, it gives them a sense of discipline to perform and they perform not only for themselves and for their clubs, but as Michael Conlan and Paddy Barnes and the other great local boxers have shown, they can perform at the highest level," she said.
It is the conditions in which some of the clubs operate that shocked her.
"St John Bosco Club (where Michael Conlan trains in west Belfast) does not even have a toilet," she said.
"You have clubs like Clonard with pigeons flying through. Despite those conditions, the success is unbelievable."
Ms Ni Chuilin visited St John Bosco on Thursday where a beam is holding up the roof and there are buckets to catch rain water in the changing rooms.
The club has neither toilets nor showers yet it has produced an Olympic medal winner.
"The £3m to be invested in clubs across Northern Ireland won't be enough but it is a start," the minister said.
"A lot of these clubs are not fit for purpose, yet they still are producing Olympic champions. Boxing has done a lot for our communities, it is time for people like me to give back."
Her sentiments were echoed by BBC boxing commentator Jim Neilly who said the money was truly needed.
"Some of the conditions that these fellas have to play in - the one that Michael Conlan trains in at the bottom of the Falls Road - you would not keep a dog in," he said.
"But look at what they are doing, success breeds success. If you look down the years, Irish boxing has been the success story of the Olympic Games."