Hotel room sales in Northern Ireland increase by 11%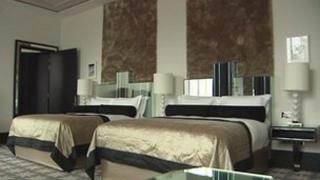 Room sales in Northern Ireland's hotels were 11% higher this June compared to last year, according to new figures.
There were 178,000 rooms sold in hotels in June and overall occupancy levels reached 78% - up 8% from last year.
The figures also show a big increase in business for guest houses and bed and breakfasts, with the number of rooms sold up by 15% over the year.
Hotels in Belfast experienced an higher than average rise in occupancy, but the north west area saw a drop of 1%.
Hotels in the mid-price range, with rooms priced between £50 and £60, saw occupancy drop.
However, those priced below £50 and those above £60 saw occupancy increase.
This could be due to more availability in the mid-price range.
When measured across the first six months of the year the occupancy rises were less dramatic, but still a solid 7% on average.
It suggests the rise in business happened later in the year and may be linked to the opening of Titanic Belfast.