Four charged after attacks on police and fire crews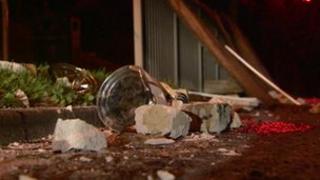 A 22-year-old man has been charged with two public order offences following trouble in Banbridge, County Down.
A 21-year-old man, a 15-year-old girl charged on Thursday, and an 18-year-old charged on suspicion of attempting to pervert the course of justice, have since been released on bail.
The emergency services were attacked when they were called to a burning barricade.
It had been placed across the Scarva Road at about 22:00 BST on Wednesday.
A group of about 30 youths attacked police and fire crews with bricks, stones and bottles.
There were no reports of any injuries.
The Police Service of Northern Ireland said the crowd had gathered at the entrance to Windyridge and at the steps at Edenderry Park.
The area returned to calm around midnight.
The two, aged 21 and 15, were charged with public order offences and are due in court later this month. The 22-year-old man is due in court on Friday.
Inspector Jacqui Gillespie said: "I am extremely disappointed at the actions of a few mindless people who were intent on causing disruption and damage.
"Their actions do not reflect the peaceful society we in Banbridge know and want.
"I can assure the local community we will not falter in our efforts to ensure that those responsible will be brought to justice".
Ulster Unionist Jo-Anne Dobson, who is an MLA for the area, has condemned those responsible.
"The people of Banbridge this morning are rightly appalled at the actions of those who attacked members of the emergency services on Wednesday evening," she said.
"Violence against the fire and rescue services and the PSNI smacks of 'mob mentality' and also puts the lives of innocent members of the public in danger by tying up vital services in one area, thus reducing their capacity to respond to other incidents.
"The jobs performed by the emergency services are dangerous enough without having to confront the mindless thuggery which occurred on this occasion."