Usain Bolt is keen on visit to Ireland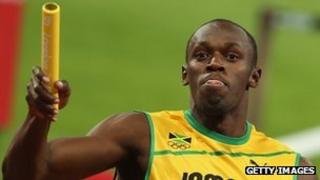 Jamaican athletics superstar Usain Bolt has said that he would like to visit Ireland in the future.
Bolt cemented his place in the sporting pantheon when he claimed three golds at the London Olympics.
He told Donegal radio station, Highland Radio, that he was keen to visit the home county of his agent, Milford man Ricky Simms.
"I've been asking him the same question for a while," he said.
"Probably next season, maybe.
"I am looking forward to it."
Bolt clinched golds in the 100m, 200m and as part of Jamaica's 4x100m relay team at the London Olympics.
The 25-year-old said he was pleased that he had been allowed to keep the baton following the relay event.
"It's just my souvenir," he said.
"I let all the guys sign it, and I put it in a case with my t-shirt and stuff."
He said he was now considering taking up the long jump as another string to his bow.
"I said I really want to try it but I don't know what the possibility will be, but we shall see," he added.
He said he aimed to add to his Olympic gold medal collection in Brazil in 2016 and explained how he was able to look so relaxed ahead of crucial races.
"It is all about the crowd - the crowd gives me that energy to relax," he said.
"It is just who I am, when I am in good shape and I know I'm in good shape, I'm always confident in what I can do."
On Monday, Mr Simms said there were no "immediate plans" for the Jamaican to visit Donegal.