Ballymena company, Wrightbus, wins £41m Singapore bus contract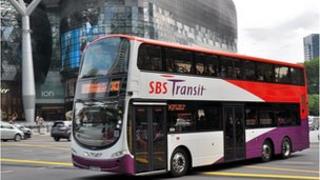 Ballymena company, Wrightbus, has secured a three-year contract worth £41m to supply 550 double-decker buses to Singapore.
The County Antrim firm will be the main supplier of the vehicles to SBS Transit and has already sold 450 buses to the Asian company since 2010.
The vehicles will be produced as kits in the company's Ballymena plant and then assembled in Singapore.
Deliveries will begin in 2013 and will be completed by 2015.
The 40 ft double-decker buses are designed to cope with hot weather and high capacity.
The additional buses will form part of SBS Transit's fleet renewal scheme, which began in 2006.
They will increase the firm's number of buses to 3,400.
Gan Juay Kiat, chief executive of SBS Transit said: "Our buses ferry more than 2.6m commuters to work and school everyday. With the new buses, we hope we can make those journeys that little bit more comfortable for our commuters."
Wrightbus said it was keen to see further expansion over the next five years.