Trial of Republicans on cell damage charges adjourned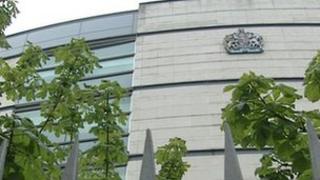 The trial of 11 republicans, including prominent Lurgan dissident Colin Duffy, who are charged with wrecking their cells at Maghaberry jail, has been adjourned.
The prosecution were unable to open the case at Belfast Magistrates Court because a witness was not available.
Defence lawyers also protested they had not been able to watch video footage.
It was from inside Maghaberry on the night, last May, when the prisoners allegedly caused criminal damage.
Three of the accused, including Mr Duffy, have been freed from jail in the past 15 months but the other men all appeared in the dock with long beards which they had grown as part of a protest at jail conditions.
Outside the court, supporters of the accused held a protest and there was a strong security presence around the Laganside complex.
Prosecuting lawyer Michael Chambers said a prison officer who could prove there had been no damage to the cells beforehand would not be available until later in the week.
Defence lawyers said DVDs provided to them by the prosecution did not work and Mr Chambers said police had undertaken to supply new copies.
Among the accused are John Paul Wootton and Brendan McConville who were convicted earlier this year of murdering PSNI officer Constable Stephen Carroll who was shot dead in Craigavon in March 2009.
The other accused are Kevin Barry Nolan from Main Street, Blacklion; Gerard James McManus from Fernhill, Letterkenny; Damien Joseph McLaughlin from Lake View Cottages, Dungannon; Mark McGuigan, Sperrin View Omagh; Sean McConville, Kilwilke Road, Lurgan; Brendan Conway from Rosemount Gardens, Belfast; Joseph Patrick Barr, Bridge Street, Strabane; and Harry Fitzsimmons whose address was given as HMP Maghaberry.
Like Mr Duffy, Brendan Conway and Damie Joseph McLaughlin are no longer in prison.
A lawyer for Brendan McConville said he and his colleagues wanted the chance to watch the CCTV footage at Maghaberry because people had gained unlawful entry to his client's cell in the past to plant details about the prison governor in order to unsettle him in his position at the jail.
District Judge Des Perry is to review the case on Wednesday.