Martin Meehan in court on disorderly behaviour charges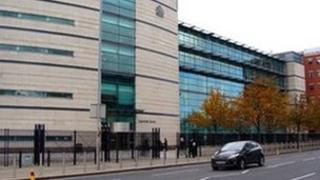 An Ardoyne residents campaigner has appeared in court on charges connected to trouble after a loyalist feeder parade in the area on Saturday.
Martin Meehan, 44, of Holmdene Gardens in north Belfast, was charged with disorderly behaviour and resisting police after an Apprentice Boys march.
On Monday, a PSNI officer told Belfast Magistrates Court that Mr Meehan had sworn loudly at police.
His lawyer said that the accused had later apologised.
Mr Meehan was granted bail as were two other people.
They had been charged in relation to what the PSNI called "limited disorder" on Saturday after residents had staged protests.
Sean McAllister, 32, from Prospect Park, Belfast, and 24-year-old youth club worker Colleen Lagan from Butler Walk also in the city, were charged with disorderly behaviour, assaulting police and obstructing officers.
Ms Lagan also faced a charge of threatening behaviour arising out of incidents in the Ardoyne area of the city on 12 July when there was serious rioting in the area after an Orange Order march.
Supporters applauded as Mr Meehan and Mr McAllister were led from court.