Dean Patton family's concern for 'vulnerable' missing son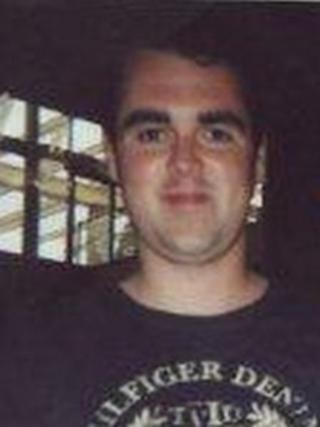 The parents of a Portrush man who went missing three weeks ago have described their son as a vulnerable adult.
Dean Patton, 24, was last seen in the town at 13:00 BST on Tuesday 24th July.
He has suffered mental health problems for the last 7 years and his parents are concerned that he does not have access to his medication.
A week before his disappearance Dean moved from the family home to supported living accommodation in Portrush.
His mother Linda says he was happy with his new independence.
"It's totally out of character for Dean to not get in touch, we as a family are finding it really hard to cope, it's just up and down, it's terrible and my husband is in pieces. We're just taking one minute at a time."
Over 100 volunteers have been assisting the police and the Bann Community Search and Rescue team in looking for Dean.
He is described as being approximately 6ft tall with dark hair and a tanned complexion. He was last seen wearing a black t-shirt and blue jeans.
Linda Patton says she is overwhelmed by the support they have received.
"One thing that we have learnt through this is the generosity of people, even people you don't know. So many people have given up time and spent their own money searching for my son."