Game of Thrones plot detail found in Gosford Forest Park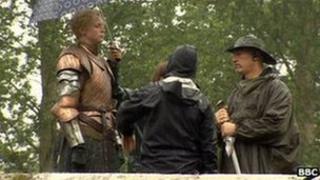 A call sheet from the fantasy epic, Game of Thrones, which contains information about scenes and plot lines, has been found abandoned in County Armagh.
The document, found in Gosford Forest Park, also had contact information for production staff and crew members.
Game of Thrones is a mediaeval fantasy series based on the books of George R R Martin.
HBO is currently filming the third series of the show in Northern Ireland.
Local journalist, Ruth Loney, was handed the document after it was found by a member of the public close to where filming was taking place.
She said the 12-page booklet included two maps, details on set layout, telephone numbers of all the crew, details on scenes and risk assessments.
Ms Loney said that although not many details of the plot were given away, the set details would have made certain elements known.
"This would be of use to people who are absolutely following this series and would be dying to know what is happening in the future," she said.
"This would be used on set by producers. In fact everyone on set would have one of these.
"I have it intact to be returned to the producing team.
"Had this been found and taken by somebody who knew about computers and putting it up on the internet really quickly, it could have gone anywhere."