Big Lottery funding will help support older people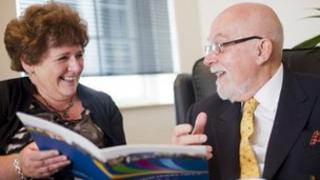 Cancer Focus Northern Ireland is one of four organisations set to benefit from a Big Lottery Fund programme aimed at supporting older people.
The grants totalling over £1.5m will help people affected by issues such as bereavement, or long-term illness.
Cancer Focus has been awarded almost £500,000 to reduce the level of late diagnosis of cancer.
Action on Hearing Loss has been awarded a similar sum to support older deaf and hearing impaired people.
The project will provide a one-to-one befriending service across Northern Ireland.
The grants are being provided as part of the Big Lottery Fund's Reaching Out: Connecting Older People programme.
Roisin Foster, from Cancer Focus Northern Ireland, said many older patients would live longer if they were encouraged to seek help when the disease was at an early stage.
"Too many people are coming too late with a cancer diagnosis. They're not getting the best out of the treatment that's available for them and we believe passionately that a year at 60 is as important as a year at 16.
"If we can help people extend their lives - some simple messages about looking after themselves to reduce their risk of cancer - then we can feel we've put this money to very good use," she said.