Lammas Fair horse trading to be kept off the streets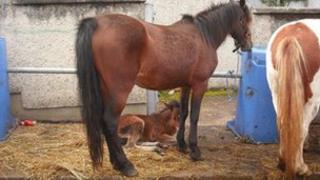 Horse trading will be allowed at Ballycastle's Old Lammas Fair, although in a restricted form, following a decision by Moyle District Council.
For 400 years, buying and selling has taken place on the streets, surrounded by crowds of fair-goers.
Earlier this year, councillors banned the tradition following concerns about safety and animal welfare.
Trading will now be restricted to an area known as the Fair Green.
The tethering of animals on Fairhill Street, or any running of horses on the public road, will be banned.
Horse enthusiast Vincent Traynor said people who want to buy a horse will still want to see run them up the street.
He said the new rules will have little impact.
"Come the fair day the people who know what they're doing, or know how to sell their horse, they'll do it anyway," Mr Traynor said.
The 2012 fair will be held on 27 and 28 August.
A pony show that had been planned to replace the horse trading has been cancelled.