A-level results day for 13,000 Northern Ireland pupils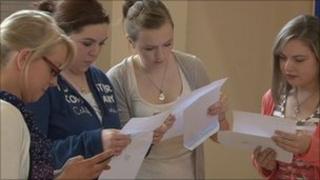 About 13,000 A-level students in Northern Ireland have been finding out their grades.
More schools than ever have allowed students to find out their results online from 07:00 BST on Thursday.
Last year 63% of exam centres signed up for students to get their results that way; this year the figure is up to 76%.
Examinations board CCEA said on Twitter that almost 5,000 students in 35 countries logged on in the first 20 minutes after the results went online.
Overall, girls achieved better results than boys. Other figures to emerge after the results were released include:
83.5% of A-level entrants in Northern Ireland achieved grades A*- C
At the top grades, A* - A was awarded to 31.9% of entrants, down from last year's figure of 34.5%
7.7% of grades awarded were A*
The overall pass rate remained unchanged, with 98.1% of grades awarded at A* - E this year
Anne Marie Duffy, director of qualifications at CCEA, Northern Ireland's awarding body, said: "Over time results can fluctuate and this year we have seen a small decrease in the percentage of entries gaining the top grades.
"This is in line with expectations, based on predicted performance for this group of students, and their performance in last year's GCE AS-level exams."
Biology was the most studied subject, while Media Studies was the only subject to have a significant rise in those sitting the exam.
Options
Stormont Education Minister, John O'Dowd, said: "This year there were a record 32,908 entries for A-levels here which represents a 10% rise in entries over the past five years.
"It is encouraging that more pupils are continuing on with their education after the age of 16 and I hope that this trend will continue in the coming years."
Employment and Learning Minister, Dr Stephen Farry, said young people should investigate all available options.
"Our further education colleges offer a wide variety of foundation degrees and vocational qualifications and further study may prove beneficial, especially in the current economic times," he said.
"Apprenticeships are another way to develop specialist skills, giving you the chance to earn while you learn and gain qualifications that are recognised worldwide."
It is expected that three quarters of pupils in Northern Ireland will use their results to go to university, a much higher proportion than in England and Wales.
Increases in A-level grades over the last few years have spurred the Westminster education secretary, Michael Gove, to say they need to be more rigorous.
His proposed plan would mean pupils starting in a new, tougher system from September 2014.
The Department of Education in Northern Ireland will not want to be viewed as having an easier system than England.
It is understood to be open to the idea of introducing a tougher system but concerned about the speed of change.