NI fire service 'problems 'being addressed' says Poots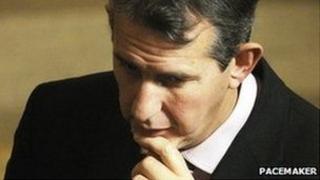 The health minister has said that problems within the Northern Ireland Fire and Rescue Service are being addressed.
Edwin Poots was speaking after the BBC revealed that an internal review had found a range of shortcomings in the service.
It also found that staff were working in a "culture of fear and mistrust".
The minister said the service was doing a good job but warned his department would not tolerate wrong-doing.
He said personnel in fire stations across Northern Ireland were "doing a wonderful job".
But he added: "I do think there have been issues about management and that's why we want to address these issues, we want to challenge them.
"I think that if people think they can do what they wish within an organisation, they'll find that that's not the case and we won't tolerate it."
The investigation, carried out by the Department of Health, also highlighted unauthorised bonuses and outstanding grievances as causes of concern.
'Major re-organisation'
The findings of the review were revealed by the BBC on Monday - the day a new chief executive flew into Northern Ireland to take up the temporary post.
There has been considerable unrest in the fire service over the past couple of years, which has seen three chief fire officers and chairmen in as many years.
The new interim chief executive is Jim Wallace, currently employed by the Scottish Government, who has previous experience with the Scottish Fire and Rescue Service.
Mr Wallace will be interim chief executive with managerial responsibilities, but Chris Kerr will continue as interim chief fire officer managing operations on the ground.
In documents seen by the BBC, Mr Poots wrote to the chair of the Health Committee, Sue Ramsey, saying there was a need for "major re-organisation".
Also, his permanent secretary, Andrew McCormick, wrote to the chair of the fire service, Joe McKee, expressing the need for "a swift and comprehensive response".