NI A-levels could get tougher after Westminster review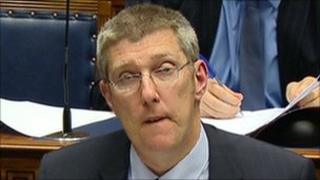 Almost 13,000 students in Northern Ireland are due to receive their final A-level results, but the future of the exam could be very different and it could be much tougher to achieve top grades in the years ahead.
The Northern Ireland Department of Education is watching carefully to see what changes come out of a review in England ordered by Education Secretary Michael Gove at Westminster.
He says his aim is to "improve" the A-level system for pupils, employers and universities but it is understood he wants to make it tougher or, in his words, "more rigorous".
He complains that it has become easier to get a top mark in some subjects.
Any radical changes would have an impact on Northern Ireland where the vast majority, 75%, of students sit their A-levels with the locally-based Council for the Curriculum, Examinations and Assessment (CCEA).
One proposal by Mr Gove is to return to one set of exams at the end of two years, rather than having a preliminary AS exam which pupils sit in the first year of study.
But there has been opposition to that idea from Cambridge University which says the AS results are invaluable in helping them choose students.
Michael Gove also wants the top-ranking universities to take a bigger role in setting A-level questions and wants students better prepared for degree courses.
Independent, fee-paying schools, too, have criticised the plans to make A-levels more "rigorous", saying it could put less able children off continuing in education after sixteen.
The Independent Schools Association says A-levels would become entrance exams for university.
In a way that is what they are.
In Northern Ireland, 76% of pupils who sit A-levels go on to university.
That is much higher than in Wales and England, where 69% and 52% of pupils respectively who do A-levels, continued to degree courses in 2010.
The Northern Ireland authorities are watching developments closely and are likely to feel pressure to keep pace with changes in England.
Any suggestion that the locally set exams are not as tough or rigorous as the English version would be very damaging to the prospects of students who sit exams set by the CCEA.
Neither the Welsh nor the Northern Ireland education departments are happy with Michael Gove's style of announcing his recent exam change proposals.
They have asked for a meeting with him to discuss the issue.
Meanwhile, the Northern Ireland Department of Education is understood not to be averse to the changes but is very concerned about the proposed timetable which would begin rolling them out in September 2013 with the new A-levels ready to be taught from September 2014.
The department is, however, believed to be in favour of scrapping the January assessments which they think is disruptive to long-term study with students forgetting what they have learnt after the exam is over.
Northern Ireland's Education Minister John O'Dowd is said to be open to radical discussion, but he is biding his time before pronouncing on the consultation which ends on 11 September.
Before that he will want to have met Mr Gove to discuss the impact of any major changes.